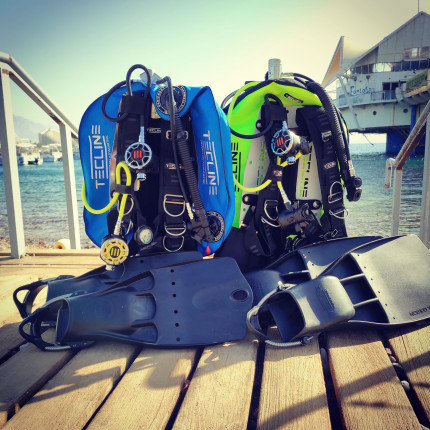 Scuba Equipment rental in Eilat for certified divers!
There is nothing better than having a holiday by the Red sea. Tourists are attracted here not only by pleasant beams of sunlight and the ability to swim in the warm water but also by the opportunity to try themselves as professional divers. This is what attracts thousands of tourists to Israel. And Eilat especially is considered to be a world famous diving center. "Eilat" and "diving" are inseparable. There is not a single professional diver who hasn't been here and wouldn't want to come here again.
Scuba diving in Eilat is a guarantee of unforgettable impressions
The underwater world of the Red sea is so picturesque and attractive that it would be difficult to find a person who can stay indifferent towards its beauties. And you do not have to bring all the ponderous equipment to plunge into this wonderful world. Rental of diving equipment in our diving center – is the best solution in this situation. We use only high quality equipment of world famous and highly recommended brands. Our scuba diving equipment yearly goes through service checks according to manufacturer's standards and the laws of Israel concerning diving.
Scuba diving in Eilat – open a wonderful world of beauty
If you are a beginner in this kind of sport, you definitely need an experienced diving instructor. He will help you to pick the right and necessary equipment for scuba diving, teach you rules of safe behavior under water and also show you the correct way of breathing. Then you can carry on to an introductory diving that will definitely be marvelous experience. Scuba diving in Eilat is popular not only among men and women of all ages, but also among children. Rent of scuba diving equipment in Eilat of high quality will allow your children of 12 years and older to make underwater excursions. You can rent a snorkel and a mask and make snorkeling excursion in the coral reserve. More experienced divers are welcome to rent full sets of diving equipment, that will help you make a dive with an instructor in the best dive-sites of Israel.
Quality scuba diving equipment in Eilat – guarantee of your safety
In order for you to feel totally safe under water and have an opportunity to fully enjoy the surrounding beauty, you need to use only quality equipment that has been tested by professionals. Scuba diving equipment rental in our diving center in Eilat will make your dives not only comfortable but also completely safe. Our qualified specialists know everything they need about diving equipment. What is more they regularly check and make preventive repairs of the diving equipment. But remember that if you want to rent the equipment you will have to leave some kind of ID. After that you can easily set off on an underwater trip and not worry about the equipment efficiency and its complete safety.